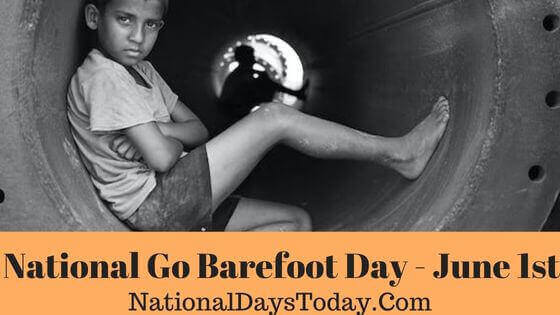 National Go Barefoot Day:
Celebrating the joy of walking barefoot, we celebrate National Go Barefoot Day on the 1st of June every year.
| | | | |
| --- | --- | --- | --- |
| Year | Date | Day | Where |
| 2023 | 1st June | Thursday | United States |
| 2024 | 1st June | Saturday | United States |
| 2025 | 1st June | Sunday | United States |
Twitter Hashtags:
#NationalGoBarefootDay
#GoBarefootDay
Related: Other National Days Celebrated on June 1st:
National Heimlich Maneuver Day
National Say Something Nice Day
Why National Go Barefoot Day?
Have you ever wandered into the garden barefoot and let the dews from grass tips tingle your feet? If not, then this is just the right day to do so. The day is about enjoying a walk barefoot while supporting a cause for children who cannot afford shoes.
More times than not, we take our simple privileges, like having a good shoe to wear for granted. There are, of course, many who cannot afford even the simplest of privileges, and this is the day to show them we care. It is a day to be cognizant of our privileges and enjoy them while also sharing them with those who need them. It is also the day for people to donate footwear, either new or old, to those who need them. The simple act of donating a pair of shoes to someone who needs them can bring happiness into their lives.
How can we celebrate National Go Barefoot Day?
There is no question about the exhilarating experience of walking barefoot, especially when it is over grassy fields and meadows. But you cannot discount the functionality and benefits offered by shoes on the other hand. It is a necessity for everyone to own at least one pair of shoes as their own, across the world. On this National Go Barefoot Day when we celebrate the charity of giving shoes to another, here are some ways to make it a special occasion.
Follow the primary objective of the day which is to donate shoes to someone who needs them. We often have an ill-fitting or a worn-out shoe lying unused in our cupboard which can be donated to those in needy. This is the best time to clean out your shoe cupboard.
You can organize a drive to collect shoes, unused or used, new or old, worn-out or ill-fitting, from those who don't need them and donate them to a charity. You can bring awareness to your friends and family on this day with #NationalGoBarefootDay on your online posts.
Apart from the charity, having a walk barefoot also has therapeutic properties to help with your foot health and posture. It improves strength in muscle joints and enhances foot positioning. Therefore this could be the day to enjoy a walk barefoot.
Interesting facts about National Go Barefoot Day:
As you donate to a charitable cause on this day, let us get to know some lesser-known facts about shoes in general.
There were no left or right shoes in the beginning. Both shoes were identical and can be worn on any leg. It was only after the 19th century when a clear distinction was made in creating the shoes.
The Marikina City in the Philippines holds the record for having the largest shoes ever made measuring to 8feet in width and about 17feet in length.
The shoes worn by Neil Armstrong when he landed on the moon were discarded by him in space fearing possible contamination. These shoes are now floating in space somewhere.
The pointed toes in the boots from Mexico can measure as much as 1 meter in length.
The Europeans wore six-inch heeled shoes to signify their upper-class status nearly four centuries ago.
Queen Victoria wore the first-ever boots for women. Joseph Sparks Hall invented these boots in 1837.
The idea behind the creation of sneakers is to sneak in without making a noise. The credit for coining this word goes to Henry Nelson Mckinney who gave the name since the rubber soles on these shoes did not make any noise.
Size 71 is the largest worn shoe size and it was worn by Robert Wadlow who was 2.72m tall and was the largest human on earth.
On average a woman owns at least 21 pairs of shoes according to studies. Danielle Steels has the largest collection of about 6000 pairs of shoes.
History of National Go Barefoot Day:
The day was created by Soles4Souls after the Tsunami in the year 2004, in an effort to support the victims of the natural disaster. The donations have however continued even after, with more than 56 million pairs donated across the world since the year 2005.