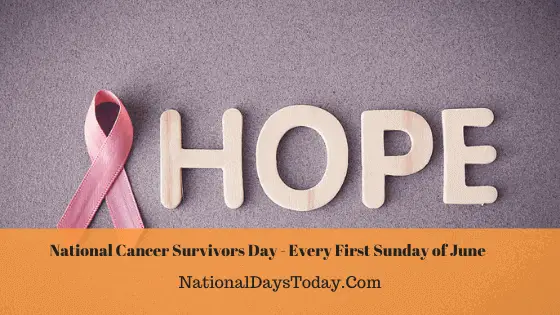 National Cancer Survivors Day:
Observed on 1st Sunday of June, every year. The Day is observed to commemorate the optimistic character of cancer Survivors who never give up in dealing with cancer, a disease that provokes abnormal cell growth.
| | | | |
| --- | --- | --- | --- |
| Year | Date | Day | Where |
| 2023 | 4th June | Sunday | United States |
| 2024 | 2nd June | Sunday | United States |
| 2025 | 1st June | Sunday | United States |
Twitter Hashtags:
#NationalCancerSurvivorsDay
#CancerSurvivorsDay
Related: Other National Days Celebrated on June 1st:
National Heimlich Maneuver Day
National Say Something Nice Day
Why Cancer Survivors Day?
The National Cancer Survivors Day is observed to commemorate the optimistic character of cancer Survivors who never give up in dealing with cancer, a disease that provokes abnormal cell growth. Cancer is diagnosed irrespective of ages however, the risks increases when aging. The cell growth may get spread to other parts of body eventually resulting in destruction of body tissue. Over 100 types of cancers were reported to be identified including few non-treatable cancers. In the United States, the average survival rate is deduced to be 66%  for Children under 15 years.
Cancer has become a deadly killer in recent years. The cancer aggression was managed by several treatments to some level. However, the patients should undergo severe treatments like chemotherapy, removal of the respective organ, etc. that definitely would be a hardship for them. Their Never give up attitude wins due to their strong ability to face those dreadful days. Being positive would have helped them to manage stress, physical illness, Impact of treatment and whatsoever. This day marks their achievement. To the Survivors, cancer is a word of the life, not the sentence that ends with a full stop. Cancer is just a part of their life.
One of the famous quotes is, I had Cancer, Cancer never had me.
Of course! Cancer survivors just had the disease. Cancer had not taken their life. Several treatments related to the disease are now available. However, a simple precaution test can help us to be proactive.
"We must embrace pain and burn it as a fuel for our Journey" said by Kenji Miyazawa, a great Japanese poet and Author who died very young due to pneumonia. The Capability of a person is measured not by his candid moments, by his or her dreadful days. This day is to honor that Capability.
"Cancer didn't bring me to my knees, it brought me TO MY FEET" says Michael Doughlas, An actor, Oscar winner. We could normally find number of Children who gone through this disease successfully nowadays. This would definitely help them in life roller coaster that will have ups and downs.
"When you come to the end of your rope, tie a knot and hang on" quoted by Franklin D. Roosevelt. Similarly, cancer can take away only our Physical Strength, not our mental Strength. Hope is the solution for all our miseries and being optimistic resolves almost all our problems. We gain Confidence, fearlessness through our physical pain.
 As said by Dave Pelzer, "You can be a victim of cancer, or a survivor of cancer. it's a mindset". Therefore Cancer Survivors has proved that every day is a second chance of our life. This day is observed to honor those strong determined and courageous Warriors who fought and won against cancer. Cancer might have started to fight first, but the cancer survivors are the one who finally won. This day commemorates the Winners against cancer.
How we can Observe National Cancer Survivors Day:
Let us observe this day by quoting about the Cancer Survivors. Post your quotes using this hashtag #CancerSurvivors on twitter. Dear Cancer survivors, please share your stories which could be a courageous inspiration to all of us to tackle the problems. Explore more about the different kinds of cancer and its respective therapies. Post your article. We can also discuss the treatments available for different kinds of cancer.
In addition, do share any proactive measures, if you know, in this hashtag to make others cautious since certain types of cancer are purely due to ignorance and that could be corrected. Normally, Children are affected by cancer because of their food habits. Thus, Cancer has now become a serious threat. Proper guidance is highly required to overcome this concern. Therefore, mark your presence in awareness programs and campaigns where they also offer some preliminary test at free of cost. Enroll yourself and get benefited.
Interesting Facts About Cancer Survivors Day:
The Name "Cancer" is derived from Latin, means Crab. The name is derived due to the appearance of malignant tumor like crab shaped structure. The existence of cancer is reported to be dated on 25 BC. Cancer affective irrespective of gender and age and even in pregnant women where treatments are recommended mostly after the delivery since certain tests would affect the baby in the womb.
Males are affected by lung cancer, prostate cancer, colorectal cancer and stomach cancer whereas females are commonly affected by breast cancer, colorectal cancer, lung cancer and cervical cancer. Unfortunately, Children too are affected by acute lymphoblastic leukemia and brain tumors. Skin Cancer is another type of cancer which could affect people of all ages and gender.
In accordance with the report,22 percent of the cancer deaths are due to the usage of Tobocco.10 percent are due to excessive alcoholism, obesity, low Physical activity, exposure to harmful radiation, Sexually transmitted disease, Hepatitis virus. Environmental pollution could also lead to cancer. Almost 90-95 percent of the Cancer occurrences are due to genetic factors.
Other 5-10 percent is because of pollution, lifestyle, food habits, smoking, drinking, and Tobacco consumption. Symptoms could be prolonged cough, loss of Appetite, severe bleeding, formation of Lump. Early diagnosis prevents the risk of death and could be treated to completely get rid of Cancer.
Treatment and Medication depend on the severity. Therapies like Chemotherapy are commonly prescribed. removal of the concerned organ has generally opted for Ovarian and Breast cancer. However,30 percent of the death could be avoided by preventing the risk factors. Almost 20 percent of the people are exposed to tobacco in the most developed countries like the United States. Moreover, Vaccination is also identified for preventing some kinds of cancer.
The Survival rate depends on the treatment and stage of the cancer aggravation. A study has estimated that, as of 2015, 90.5 million people were affected by cancer eventually leading to almost 16 percent death and 165000 children under the age of 15 were diagnosed with cancer in 2012. Around 14.1 million people are affected by cancer every year.
We are often inspired by the celebrities.'
The below are the Celebrities of the United States who battled cancer successfully.
Sheryl Crow, an American born famous singer battled the breast cancer and brain tumor.
 "It took having cancer for me to realize that happiness is something i. have to cultivate in myself" says Sheryl Crow.
Robert Antony De Niro, notorious American actor, director and producer, was diagnosed with prostate cancer in the year 2003 and went through a series of surgery.
A popular actress, Kathleen Doyle bates battled cancer twice. she fought against breast cancer and ovarian cancer successfully.
"I haven't talked much about being an ovarian cancer survivor because I don't really want to define myself that way", says Kathy bates.
The Actor of TV series "Dexter" ,Michael Carlyle Hall was diagnosed with Hodgkin's lymphoma when he was just 38 years old. Sadly, his father died due to cancer at the age of 39. He even received the Golden Globe award by wearing a cap on his head since he lost his hair due to Chemotherapy treatment.
Lance Edward Amstrond, an American professional cycle racer is the survivor of testicle cancer.
He could not set his comeback priory. His physical strength was almost deteriorated. Even professionally, his career was down. Later, he stated that it was his family and friends, responsible for his successful comeback.
It gave me a chance to re-evaluate my life and my career. Cancer certainly gives things a new perspective. I would not have won the Tour de France if I had not had cancer. It gave me new strength and focus, says the American cyclist. Further, he stated that "before cancer, I lived. Now I live Strong".
Beverly hills star "Shannen Doherty" battled breast cancer that has spread to her lymph nodes. She boldly posted her hairless picture in the social account. She underwent mastectomy and surgery.
When inquired about that, she stated, "ultimately," they're JUST BREASTS right? I love them, they're mine, they are beautiful, but in the ground scheme of things, I would rather be alive and 1 would rather grow old with my Husband".
 We can see so many cancer survivors around us. Our body is not impeccable.It is a blemish. Our thoughts should be impeccable that can fix our body and make us to stay strong and optimistic. Being positive is the resolution of all our problems. Stay Positive!