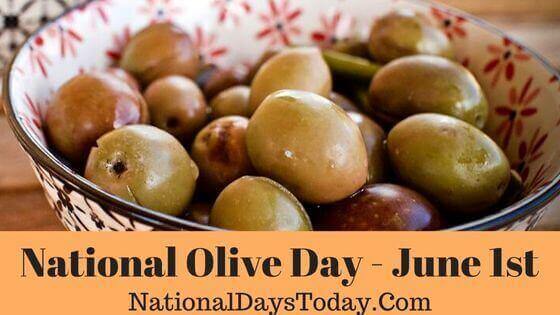 National Olive Day:
National Olive Day is celebrated annually on June 1 to explore the health benefits of one of the oldest fruits, Olive!
| | | | |
| --- | --- | --- | --- |
| Year | Date | Day | Where |
| 2023 | 1st June | Thursday | United States |
| 2024 | 1st June | Saturday | United States |
| 2025 | 1st June | Sunday | United States |
Twitter Hashtags:
#NationalOliveDay
 #OliveDay 
Related: Other National Days Celebrated on June 1st:
National Heimlich Maneuver Day
National Say Something Nice Day
Why National Olive Day?
Olive is considered as the richest gift of heaven on earth. From Olive fruit to Olive leaves, all the sources are celebrated as an ample food and medicinal ,cosmetic purposes. It was a trend once where sunflower oil was replaced by olive oil. The benefits of Olive oil on Skin are magnificent.
Devoted as a sacred tree and as a sign of virginity in ancient days, the trees are valued as a symbol of peace and a signature of Power. Even our national flag features olive branches that eventually become evident that olives are embedded with American History and it's not just a tree or fruit.
Though the world has seen many civilizations and the extinction of gigantic figure like Dinosaurs, olives found its trace 20 to 40 million years ago. If we could still able to reap the benefits and find alive trees of Sixth century BC, then it would be definitely a gift to mankind. The health benefits of Olive must had made our ancestor to pass to us.
The day is to explore more about Olives and its health Benefits.
How can we observe National Olive Day?
Add Olive in Your Meal:
Find out a way to add Olives in your diet plan. Since Olives are abundant of Vitamins and Minerals! Share your Meal Plan using the hashtags #NationalOliveDay and #OliveDay on social media.
Get Different Color Olives:
As Olives comes in different range colors, buy as much as colors if possible and share it on twitter using #DifferentOlives.
Read the History:
You won't believe that the Olives which we see now is rooted back to Jesus time even some trees reported to be from Six century B.C. We have provided some list of trees in the Interesting Facts Section. Explore more and share some locations of oldest trees in the comment section.
Try a Recipe:
Try a recipe or decorate your favorite pizza with Olives! Share your recipe using the same hashtags.
Health Benefits of Olives:
This day is mainly for this. That is to use olives in one or many ways. Either for edible dish or for skin improvement.
List out the important and tried health benefits of Olives so that others will be benefitted as well.  Please share only test and tried ways using the hashtag #HealthBenefitsOfOlives.
About the disadvantages, certain varieties of olive has high concentration of Sodium and fat. Don't forget to consult your doctor or dietician before if you are going take olive for the first time!
Interesting facts about National Olive Day:
To celebrate this day, Let's see some interesting facts about Olive tree,
The Olive tree is first discovered in Mediterranean Basin that indicates that Olives are not native to the Americas that includes both North and South. It was Spanish missionaries who planted Olive in California by the 18th century sometime between 1769 and 1795.
The word "Oil" which we commonly use originally meant only "Olive Oil"!
The found Fossil Remains of olive tree estimates that it had its origin before 20 to 40 million years ago. However, the Olive plant was cultivated in Mediterranean regions before some 7000 years.
The edible Oil must be in use for about 6000 Years as Olive Pits and other images related to Olive were found in ancient tombs.
An Olive tree at Abrantes, Portugal is claimed to be the oldest tree still alive now. The Radio carbon dating method estimates the tree to be of at least 3350 Years old. Calculated to be planted during the Atlantic Bronze Age, this tree is the oldest till date.
Other similar old olive trees found to be in
island of Brijuni(Brioni), Istria in Croatia – 1600 Years old – Yields 30 Kg Fruit per year.
Plato's Olive Tree in Athens -2400 Years Old
Peisistratos Tree, Cephisus River, Athens – Dates back to Sixth century B.C
the Finix Olive in Crete – 2000 Years Old (estimated by archaeological department)
olive tree of Vouves in Crete – Between 2000 and 4000 Years of Age.
Farga d'Arió in Spain – Dates Back to 314 AD
Even Some trees in the Garden of Gethsemane in Jerusalem are reported to be correlated to the time of Jesus. However, it's an unsubstantiated claim as carbon dating is not possible to be conducted on much older trees.
Olives are the most cultivated Fruits in the world with the European Union on the Top in Production. The Mediterranean region produces 95% of the Total production. 
History of National Olive Day:
This day is not an official National Day declared by US. And the Founder of this day is unknown.