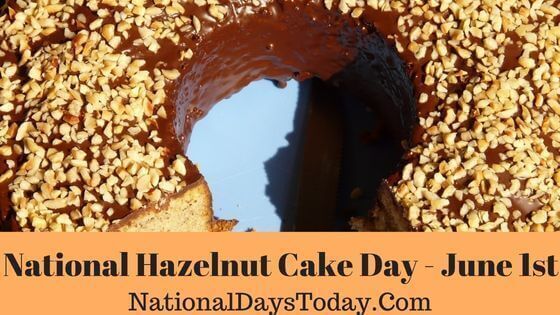 National Hazelnut Cake Day:
Baking and enjoying a slice of the hazelnut cake is what the day is all about and it is celebrated every year on the 1st of June.
| | | | |
| --- | --- | --- | --- |
| Year | Date | Day | Where |
| 2023 | 1st June | Thursday | United States |
| 2024 | 1st June | Saturday | United States |
| 2025 | 1st June | Sunday | United States |
Twitter Hashtags:
#NationalHazelnutCakeDay
#HazelnutCakeDay
Related: Other National Days Celebrated on June 1st:
National Heimlich Maneuver Day
National Say Something Nice Day
Why National Hazelnut Cake Day?
Hazelnuts were considered to possess medicinal and healing properties according to Roman and Greek mythology. There has been an extensive description of these nuts across these two cultures. The nuts were roasted and used for making oil or eaten raw, even during the pre-European era. Despite the long and interesting history, the nuts have been quite prominent for their flavor and the hazelnut cake brings out the best of these nuts in a delicious manner.
The hazelnuts are rich in the necessary nutrients and can contribute to better health. This is one of the reasons for adding these to your favorite cakes and celebrating this day. There is also a lot of variety in the cakes and delicacies made with hazelnut, namely the hazelnut cheesecake, hazelnut cake squares, etc. No matter what you like, there is a hazelnut recipe for the dessert. It is loved by everyone across all age groups which is another reason to celebrate this day every year.
How can we celebrate National Hazelnut Cake Day?
There are many ways to enjoy this day every year and here are some tips on how you can make it the best day of the year.
The best way to enjoy this day is to have your day baking this amazing dessert, the hazelnut cake. If you don't know how to, then this is just the day to enroll in a baking class making sure to learn the recipe for the upcoming year's celebration.
If you are not much into baking, then you can buy yourself a hazelnut cake for this day to enjoy alone or with your near and dear ones. You can even order some for your loved ones. Instead of a full cake, you can also try the hazelnut cupcakes for the celebration on this day.
There are plenty of recipes involving hazelnut and this could be the day where you can enjoy the taste of each of them at leisure. You can also try some of these recipes at home and see how the nut enhances or varies the pleasure between different dishes.
Remember to spread awareness about this day and the delicious dessert to the world with the #NationalHazelnutCakeDay.
Interesting facts about National Hazelnut Cake Day:
Here are some facts to spike your interest in the hazelnut on this special day.
The hazelnut has many different names. Some of them include cobnuts, Pontic, and filbert. The term "filbert" has its origins traced to St. Philibert, a Frankish abbot from the 7th
As many recipes of hazelnuts are available across the world, there are also 100s of varieties of hazelnuts in the world. 70% of these hazelnuts are produced in Turkey.
More than 95% of the hazelnuts in America are produced from the Willamette Valley in Oregon. This is probably why the nut was declared the official nut of the state in the year 1989.
The trees of hazelnuts pollinate in the winter season and bloom to produce nuts for many hundreds of years to come.
In ancient times, the hazelnut tree was considered magical and a rod from this tree was used for warding off evil spirits.
Studies indicate that consumption of hazelnuts can lower stress levels and the chances of heart disease as well.
The hazelnuts are rich in vitamin E, folate, and dietary fiber along with plenty of minerals and vitamins.
The nuts are used in making many confectionary items like chocolate truffles, pralines, hazelnut paste products, and in many different combinations with chocolate.
The Nutella uses hazelnuts from Turkey along with those originating from Italy. It is also used as a flavor in coffee when making the hazelnut latte, a popular among coffee lovers.
There are also liquors, like Frangelico based on hazelnut, and has been topping the popularity charts. There are also many other similar brands rising in recent times.
History of National Hazelnut Cake Day:
There is no specific information with regards to the origins of this day or who initiated this celebration. While the hazelnuts have been in existence for a long time, and have a long history, the cake day celebrations do not have information on the reason behind this day.