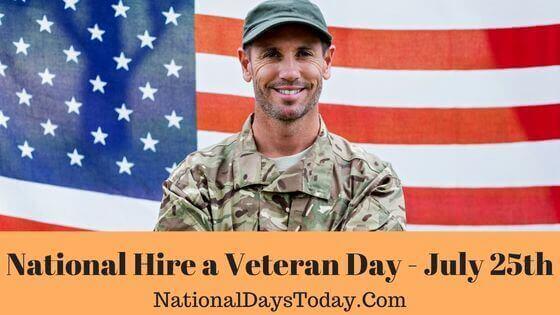 National Hire a Veteran Day:
As the men from military service return to civilian life, we celebrate National Hire A Veteran Day every year on the 25th of July.
| | | | |
| --- | --- | --- | --- |
| Year | Date | Day | Where |
| 2023 | 25th July | Tuesday | United States |
| 2024 | 25th July | Thursday | United States |
| 2025 | 25th July | Friday | United States |
Twitter Hashtags:
#NationalHireAVeteranDay
#HireAVeteranDay
Related: Other National Days Celebrated on July 25th:
National Threading the Needle Day
Why National Hire A Veteran Day?
It is not easy for veterans to transition from their military service to normal civilian lives. And yet, many veterans move every day to civilian society. This can be a challenging phase for them and that is why we need to raise awareness about them joining the workforce, to make people aware of what we can do for them to make them feel at ease. The heroes from our military services deserve as much help as we can give and the best way to help them is to hire them for their skills.
As the military veterans transfer from one place to another, their families also have to move along. This means, there is an increasing need to find work for the families of the veterans as well. This day can be used to spotlight the needs of veterans and families and help those near us to find sustenance for their living. Additionally, as you help veterans find a job, you are also helping in improving the social and economical development of the country while also improving the living quality of the veterans and their families. The day is a celebration to bring awareness to the need for hiring veterans as they move from active service to the civilian workforce.
How can we observe National Hire A Veteran Day?
You would be surprised to know the kind of skills the veterans can bring along to your workforce. This day could be the beginning of a beautiful bonding and addition to their lives and you can make it better by doing any of the below options.
Veterans come with many different skills, with some excelling in sales, marketing, cybersecurity, information technology, and engineering, among other options. When a company hires veterans for their workforce, they also stand to gain from the various promotional programs of federal agencies.
If you are in a company in the hiring position or you own a business, then you could give a helping hand to veterans by hiring them. With highly developed skills and a sense of loyalty, they make a great addition to your workforce. Their strategic thinking and decision-making skills will prove to be a worthy addition to your organization.
If you are a veteran, then you could attend the many career fairs to know your employment options. A lot of official government and other websites have information regarding possible job openings across industries.
Spread the word and bring awareness to the veterans on this day with #NationalHireAVeteranDay on your online posts and social media messages.
Interesting facts about National Hire A Veteran Day:
If you are wondering why you should hire a veteran, then here are a few things to help you consider them for the next job offer.
Veterans exhibit a very stronger sense of loyalty than others. According to studies, more than 8% of the veterans continue to remain with the first company that hires them compared to others.
You would be pleasantly shocked to know that the veterans have a better education and skills than others. Research shows that more than 150% of veterans have a minimum of a college degree or more.
Despite possessing better skills and education than the normal workforce, nearly 33% of the veterans are still unemployed or underemployed. They either do not have work that matches their skill sets or do not have work at all.
The day celebrating the veterans' return to the civilian workforce is strongly supported by many federal agencies including the Department of Veteran affairs and the Department of Labor. This is why there are many promotional programs run by federal agencies for the organizations that support hiring vets.
Every year, as many as 200,000 people are discharged from the military in America equaling many veterans looking for a job.
History of National Hire A Veteran Day:
The day was founded by Dan Caporale, a veteran of the Marine Corps, who is also the founder of Hire Our Heroes. The day was officially observed in the year 2017 for the first time and has been in observance on the same day every year since then.