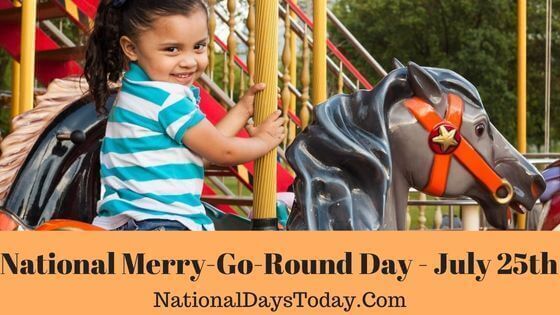 National Merry-Go-Round Day:
Spotlighting the fun ride that everyone loves as a kid and as grown-ups, National Merry-Go-Round Day is celebrated every year on the 25th of July.
| | | | |
| --- | --- | --- | --- |
| Year | Date | Day | Where |
| 2023 | 25th July | Tuesday | United States |
| 2024 | 25th July | Thursday | United States |
| 2025 | 25th July | Friday | United States |
Twitter Hashtags:
#NationalMerry-Go-RoundDay
#Merry-Go-RoundDay
Related: Other National Days Celebrated on July 25th:
National Threading the Needle Day
Why National Merry-Go-Round Day?
When we speak about Merry-Go-Round, we immediately think back to our childhood days. They were and continue to be one of the biggest sources of happiness and they are enjoyed by all age groups. It is a nostalgic experience and is often associated with a magical experience for the kids. You can still visit one of these carousels and feel the joy seeping into your heart in no time, as you spin slowly to the music.
Merry-Go-Round is a representation of our childhood that lives up to this modern day. Everyone has a childhood memory involving amusement parks and the popular merry-go-round carousels. As you celebrate this day, you can relive the memories from your childhood and wake up the inner child in you. You can even look at the celebration of this day philosophically. As the ride goes up and down, it also refers to the ups and downs we face in our everyday lives. This is another reason why you should be celebrating a day honoring this wonderful joy-filled ride every year.
How can we celebrate National Merry-Go-Round Day?
This fun-filled holiday can be celebrated in numerous ways. And if you are looking for ideas, we have some interesting pointers for you here.
The best way to enjoy this day is, of course, to ride on a carousel and relive the memories from your childhood. There are more than a hundred carousels registered in the country and this is your chance to find the nearest to your place and enjoy a ride on it. If there are kids in your house, you can even introduce them to the carousel rides, if they have not done it already.
You can find more information about the carousels and related statistics. You can find this on the official website of the National Carousel Association. You can even find the carousels in your locality and find the story behind them to make the history more interesting. You would be surprised by what they can give you and they might even have a long and enriching history to know about.
If you are not interested in stepping out of your house to enjoy a carousel ride, then you can still have fun about carousels by watching a movie based on them. There is a romantic film called "Carousel" made in the year 1956 and this can be your starting point to enjoy movies about carousels or movies revolving around them. Settle down to have a fun-filled ride with snacks as you watch these movies.
Remember to share your experience from childhood or from the ride you had on this day on your social platform with #NationalMerryGoRoundDay.
Interesting facts about National Merry-Go-Round Day:
As we enjoy this day, riding on our childhood memories of carousels, let us get ourselves informed about many other facts about Merry-Go-Rounds and carousels.
Many songs have been made by popular groups like The Replacements, ABBA, Fleetwood Mac, Motley Crue, and more dedicated to the popular Merry-Go-Rounds.
While there is a merry-go-round in every city or country, you would be surprised to know that the ones in Europe turn clockwise and those in America turn anti-clockwise.
Charles Lindbergh, the first man to cross the Atlantic, calmed his mind down before the big journey by riding on a carousel on Coney Island.
Carousels were once ranked as an aid to improve blood circulation in your body. The physicians recommended it at the beginning of the 19th century for better health.
The carousels featured real hair from horses on the ponies, in the early days. It was not just the mane but rather sometimes even the tails were made of real pony hair in those times. The carousels have come a long way since then.
History of National Merry-Go-Round Day:
The credit for celebrating this day goes to the National Carousel Association whose objective is to preserve the carousels and their history. The day was founded by the historian specializing in carousels Ronald Hopkins along with Bette Largent, who is the association president. The date, 25th of July, also happens to be the date when the first patent for a carousel was taken in the US by Iowa's William Schneider.