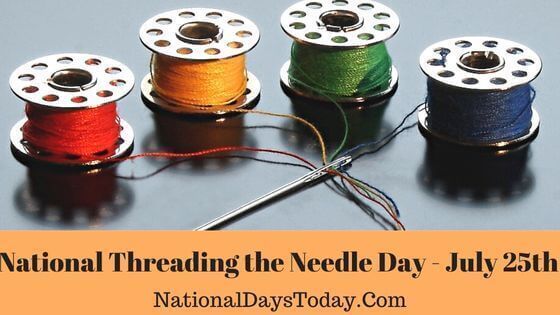 National Threading the Needle Day
Known to present you with multiple meanings, the phrase "thread the needle" is celebrated for various reasons on the 25th of July every year.
| | | | |
| --- | --- | --- | --- |
| Year | Date | Day | Where |
| 2023 | 25th July | Tuesday | United States |
| 2024 | 25th July | Thursday | United States |
| 2025 | 25th July | Friday | United States |
Twitter Hashtags
#NationalThreadingtheNeedleDay
#ThreadingtheNeedleDay
Related: Other National Days Celebrated on July 25th:
Why National Threading the Needle Day?
You can associate different meanings to the phrase "threading the needle" and it has different perceptions and perspectives for different people and situations. That is also why the celebration can mean different things to different people, making this a versatile day to celebrate anything and in any way you want. It could be the most refreshing day for celebration.
Not many of us are aware of the different meanings the simple idiom presents. And this is another reason why you can celebrate as you can use it as an opportunity to learn more about this new idiom and the different ways it can be used. There are many different activities linked to this day like yoga, fitness sports, sewing, etc. that can go a long way in improving yourself. You can use this day to celebrate the skills you are passionate about and use it as an opportunity to hone those.
How can we celebrate National Threading the Needle Day?
There is no set way to celebrate this day and that is why this is a special day to many with the freedom to celebrate in their fashion.
You can take the name of the day in its literal sense and use it to learn something with arts and crafts using a needle. There are plenty of DIY projects that require you to use thread and needles. You can take these up on this day or you can even take up classes in sewing if you love the fashion side. Quite a few places offer free classes in sewing that you can enroll in on this day.
The day is about overcoming your challenges. This also means that you can take up a new sport or activity that you have found to be daunting. You can play any game you want like golf or football. It would be great to try something new that you have not played before. Team sports would make the day more enjoyable with friends joining into the fray.
Since there is no reason found yet as to why this day exists, you can try exploring it further to know why the day was found. You can also share your thoughts and ideas on how the day can be spent and why it has to be spent differently. You can also share your meaning for this day with #NationalThreadingTheNeedleDay and bring awareness to a different perspective to this day.
Interesting facts about National Threading the Needle Day:
As mentioned earlier, the phrase or idiom, "Threading the needle" has different meanings, depending on how we perceive it. Here are a few interesting meanings you can infer from this phrase.
There is, of course, the literal meaning of sewing where you thread a needle to stitch fabrics.
Metaphorically, the phrase means any other situation that you find difficult to navigate. It is meant for those who have to navigate on a thin line between two choices.
The phrase is also used in the game of billiards referring to guiding a ball through a narrow path and shooting it precisely.
Whenever there is a challenging move or a tight spot occurs in any sport, the commentators are often heard mentioning this phrase to describe the same.
There is also a yoga pose that is referred to by this phrase. This pose is meant to be good for your back and helps release tension in the upper part of the body.
The earliest use of the phrase in sports, happened during the 1940s when the phrase was used in a game of golf, held in Illinois.
As we learn about the different meanings, it also makes sense to know who invented the needle. The credit goes to a French Tailor, Barthelemy Thimonnier, who invented the machine with one thread and hooked needle to sew. It was in the year 1830.
History of National Threading the Needle Day:
There is no information as to the origins of the day in history so far. However, threading the needle has been a challenge since the time of the invention of needle and thread and the needle has a long history too.