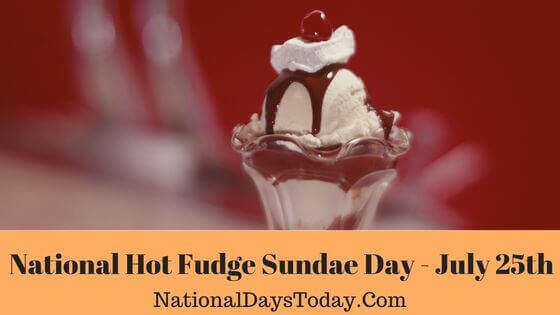 National Hot Fudge Sundae Day:
Celebrated in ice cream month, the delicious hot fudge sundae is honored every year on the 25th of July.
| | | | |
| --- | --- | --- | --- |
| Year | Date | Day | Where |
| 2023 | 25th July | Tuesday | United States |
| 2024 | 25th July | Thursday | United States |
| 2025 | 25th July | Friday | United States |
Twitter Hashtags:
#NationalHotFudgeSundaeDay
#HotFudgeSundaeDay
Related: Other National Days Celebrated on July 25th:
National Threading the Needle Day
Why National Hot Fudge Sundae Day?
While the hot fudge sundae is a simple twist of the classic sundae, it is certainly the most beloved among the sundaes. It is quite simple to make a hot fudge sundae, where you can add a dash of hot fudge and whipped cream to two scoops of vanilla ice cream along with some nuts to get the dessert made ready in a jiffy. The ease with which you can make this dessert is one of the reasons why you should celebrate a day honoring it.
The fact that this sundae has been in existence for centuries is another reason to celebrate them. It is one of the rarest dishes that were enjoyed a century earlier and is continued to be enjoyed even now. Also, these can be bought by anyone. The ingredients are cheaper and so is the sundae if you want to buy one. You can choose the toppings you want and this sundae will continue to taste as amazing as ever. It is a day to enjoy the summer with delicious ice cream and this sundae makes it the best way to enjoy the season.
How can we celebrate National Hot Fudge Sundae Day?
The best way to celebrate this day is, of course, to have the hot fudge sundae itself. And if you can make it yourself, it will add to the celebration. You can have people coming over to you for a get-together over the sundae and enjoy this classic tasty ice cream with your near and dear ones.
If you have never seen a classic sundae being made, then you are probably missing out on the biggest celebration of all. You can try any old sundae parlor in your locality and watch the sundae being made in front of your eyes. Some diners also serve this nostalgic item for dessert and you can find out the same from them before booking a place for you on this day.
Ice cream is loved by children and this day is when you can treat them to their favorite desserts. This is a holiday that kids will love the most and you can treat them as well as yourself with this delicious sundae on this day.
Share your thoughts and your pictures with this delicious ice cream with the world and remember to use #NationalHotFudgeSundaeDay on your posts.
Interesting facts about National Hot Fudge Sundae Day:
As you would already know, sundaes are available in plenty of flavors and on this day let us explore a little more into their history and facts about them.
Many American cities claim ownership of the ice cream sundae, like Louisiana, Ohio, Wisconsin, etc. and each of them has its own story to tell as well. Of course, all of these speak of an accidental invention of this dessert. The most common story revolves around the creation of this sundae from the popular dish, ice cream soda.
Nearly 90% of the households in America have ice cream and enjoy it.
The Two Rivers from Wisconsin claims that the first scoop of ice cream sundae was served by their druggist named Edward Berners in the year 1881.
In the year 1892, is when the sundae was first mentioned in print when the paper "Ithaca Daily Journal" mentions it as a "Sunday" instead of "Sundae".
There have been many varieties of sundaes and the hot fudge sundae was first created in an ice cream parlor in Los Angeles. It was C.C. Browns who take credit for this creation and it was in the year 1906.
The hot fudge sundae was further improvised over years as per the preferences of many customers. The famous Tin Roof Sundae was created by Harold Dean Thayer in 1916. It featured an ice cream scoop drizzled with chocolate sauce, topped with peanuts and marshmallow sauce.
History of National Hot Fudge Sundae Day:
There is no creator or initiator for this day and yet this is one day that everyone would love to celebrate despite the age. The hot fudge sundae is celebrated as their creation, however, by many cities, all of them in the US.