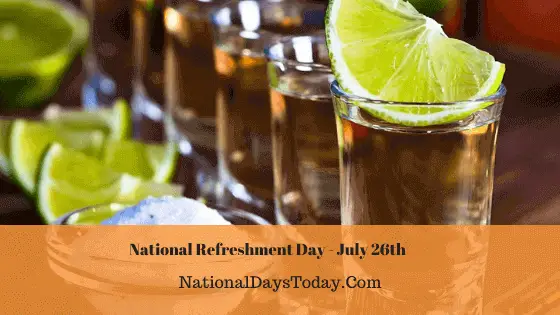 National Refreshment Day:
Celebrated on Fourth Thursday in July, every year. This day is to remind us to refresh ourselves in our hectic daily routine life.
| | | | |
| --- | --- | --- | --- |
| Year | Date | Day | Where |
| 2023 | 27th July | Thursday | United States |
| 2024 | 25th July | Thursday | United States |
| 2025 | 24th July | Thursday | United States |
Twitter Hashtags:
#NationalRefreshmentDay
#RefreshmentDay
Related: Other National Days Celebrated on July 25th:
National Threading the Needle Day
Why Refreshment Day?
This day is to remind us to refresh ourselves in our hectic daily routine life. Every one of us needs to detoxify stress at regular intervals. Like how we differ from each other in action, thought likewise our method of refreshment also differs. For someone, a single bottled beer is enough to refresh their mind and body. For someone, being simply silent is meant as refreshment.
Jane Austen says
"To sit in the shade on a fine day and look upon verdure is the most perfect refreshment."
She sought refreshment in this way. Anyhow, refreshing by taking a small break from all of works by any means is what rightly needed for all of us without exceptions. This day demands the same since stress is a major threat to the mankind.
How we can Celebrate National Refreshment Day:
Easy!! Just relish on this day in refreshment. Enjoy this day with your favorite beer with intense rapture.post your celebrations pictures and share your moments as an article using this hashtag #refreshmentDay on the social media. Make this day viral by sharing your enjoyments. Every one of us prefers a different way of celebration. Choose a different way today also.
Pleasure is not only with beer. Taking a break from work and simply watching a Television without brooding about anything gives us equal refreshment.

Never mind about health or diet today. Eating whatever we want for just a day would not affect our health. Just eat what you want. Even that's a way of refreshing our mind and body.

Enjoy with friends gives us the most cherisable 

moments. It

 refreshes our mind. Share laughter as we all know laughing is the best medicine.

Take a break from work on this day. Watch some nice movies with friends. Watching an utter movie even with friends gives pleasure. Just try this.

Enjoy today fully with your family. Go to some fine theme parks with your children. Just play with them.

Try something new on this day. Like, try a new recipe. No matter if it is a disaster. Let your family have it for a day. Just shoot their reactions after eating.
Interesting Facts About Refreshment Day:
One of the best methods to refresh ourselves is by massage 

therapy. It

 helps in detoxifying our accumulated stress and enhances our body physically and mentally as 

well. It

 makes us to be calm, fine and to have a clear state of 

mind. It

 makes us energetic. This massage spa can be done on regular intervals to eliminate the stress and to refresh our mind and body.

Exercising on a daily basis acts a great stress buster.

Laughter helps in stress relief since it potentially improves the immune system.

Yoga nurtures our body, it regulates the function of respiratory system, and it strengthens nerves and balances mind and body.

Walking in evening helps us to breathe fresh air that in turn refresh our body and mind.
History of Refreshment Day:
This day is launched in the year 2015 by Traveler Beer company, a company that concentrate to produce varieties of creative beer products by combining the traditional European shandy and the American craft beer. Furthermore, Traveler beer and co has created this day to make us relish at least on this day in refreshment as it feels the most perfect way of refreshment is having a new variety of beer.