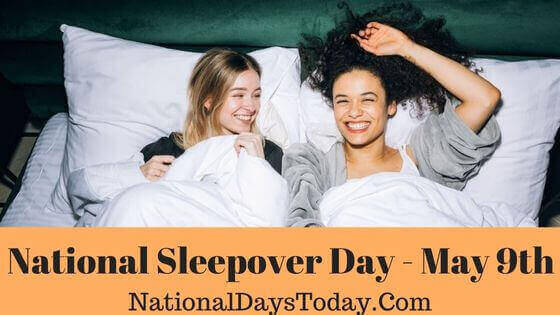 National Sleepover Day:
The National sleepover day was observed this year on the 9th of May. This day is mainly utilized as an opportunity to hang out with your friends for recreational purposes without giving any excuse to your parents.
| | | | |
| --- | --- | --- | --- |
| Year | Date | Day | Where |
| 2023 | 9th May | Tuesday | United States |
| 2024 | 9th May | Thursday | United States |
| 2025 | 9th May | Friday | United States |
Twitter Hashtags:
#NationalSleepoverDay
#SleepoverDay
Related: Other National Days Celebrated on May 9th:
National Butterscotch Brownie Day
National Lost Sock Memorial Day
Why the National Sleepover Day?
Teens and adults alike, we all deserve to spend some quality recreational time with our friends and catch up on the latest gossip or the latest drama. Sleepovers have the potential to build bonds like no other.
Not only do you get to catch up with your friends, but you also get the opportunity to build new memories and plan new things while you are all together in the same space. This day can be used as a perfect opportunity to make your introvert friends come out of their comfort zones.
This day is particularly observed to promote girls bonding over sleepovers and sharing their stories and gossip. PJs and nightgowns are the only acceptable dress code for this day and, people on this day are allowed to show up on the streets in their PJs without the fear of being judged.
This year both the Cosmopolitan magazine and the Bare minimal makeup brand declared the 9th of May as the National Sleepover Day. To be completely honest, there should not be a reason to observe a certain day for sleepovers because these plans work best when they are spontaneous.
People this year also seemed to roam around the streets of New York in their sleepover costumes and, there were a variety of events going on in the middle of Times Square at midnight. They have made a festivity out of this day, and people celebrated this day with enthusiasm and gusto.
Photos were taken, and Instagram stories with posts were uploaded with the most trending hashtag- #NationalSleepoverDay. Days like these cannot be turned into a missed opportunity and not posted about it on your socials.
Canceling plans and ghosting is not an option on this day. People who do this on a regular basis are sure to experience some major FOMO if they do not show up at the party. As millennials or Gen Zs, we can all agree that no amount of time is enough to hang out with our friends.
Bonding over sleepovers can be therapeutic in many different ways. You can share your skincare routines with your friends, or you can book spa and massage appointments and take a day off from your hectic schedules.
How can we celebrate National Sleepover Day:
This day provides an opportunity to hang out and catch up with your friends without any excuse that you cannot make it to the party. PJs and nightgowns are the official dress codes for this day.
This day is the perfect opportunity to binge your favorite shows or movies with your pals and get the latest news on what is new in their lives. You can even host themed sleepover parties with your friends and invite those friends you would otherwise never get to hang with on a normal occasion.
You can plan makeup or even self-care sessions with your friends, and this might get people hooked to make-up or self-care routines that are not used to doing them regularly. You can also whip up some delicious meals or snacks and binge on your favorite dramas or tv shows.
Use #NationalSleepoverDay and #SleepoverDay to Share your celebrations.
Interesting facts about National Sleepover Day:
There are so many interesting facts about this day which you can't miss-
This day was declared by the Cosmopolitan magazine and the Bare minimal brand
This day was observed for the first time on the 9th of May 2017 and is being observed since
The hashtags- #NationalSleepoverDay and #SleepintheBare were trending on Instagram, Twitter, and other social media platforms on this day.
This was mainly observed in order to promote girls' sleepover and their bonding over skincare and make-up.
History of National Sleepover Day:
This was an initiative of the Cosmopolitan and the Bare Minimals brand to promote random and spontaneous sleepovers amongst girls and make them bond and share their stories. The day was first observed on the 9th of May.
They also encouraged using the hashtag- #SleepintheBare to emphasize the fact that we must encourage people around us to show their natural selves without feeling intimidated or insecure. This day was first registered in the National Day Calendar in the year 2017.