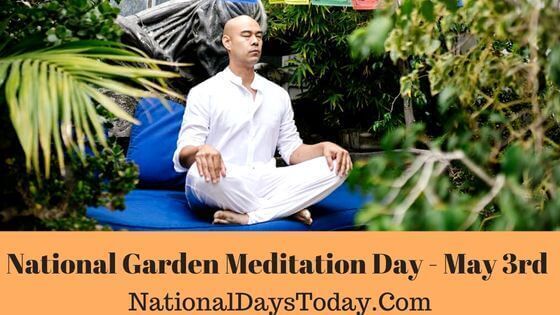 National Garden Meditation Day:
Every year on the 3rd of May, we celebrate the National Garden Meditation Day, a day to relax in the garden and meditate.
| | | | |
| --- | --- | --- | --- |
| Year | Date | Day | Where |
| 2023 | 3rd May | Wednesday | United States |
| 2024 | 3rd May | Friday | United States |
| 2025 | 3rd May | Saturday | United States |
Twitter Hashtags:
#GardenMeditationDay
#NationalGardenMeditationDay
Related: Other National Days Celebrated on May 3rd:
National Chocolate Custard Day
National Specially-Abled Pets Day
National Raspberry Popover Day
National Two Different Colored Shoes Day
Why celebrate National Garden Meditation Day?
The world is moving at a real fast pace and thanks to technology, we hardly find time to spend on ourselves. However, it is imperative that you connect with your inner self from time to time and ensure that you stay rooted in your soul. The people in this world need a constant reminder to keep them rejuvenated and connect with their souls. Meditation is found to be the most effective way to refresh and relax your body and mind. And to remind oneself about the need to meditate and relax themselves is what the National Garden Meditation Day is all about. This is a day that reminds you to spend time with your inner self and to relax to take up the challenges that come to you the next day.
How can we celebrate National Garden Meditation Day:
Being one with nature is probably the best way to find yourself and to relax your mind from the tensions of today and prepare for the challenges of tomorrow. If you are looking for ways on how you can spend this day effectively then here are a few tips to guide you.
You can visit the park or a garden near your place and spend some time with the plants in them.
If you already have a backyard or a lawn garden, then you can spend some time there, sitting on the grass, closing your eyes, and meditating.
If you have a balcony overlooking a garden then you can spend some time there overlooking the trees and plants and enjoying your time with nature.
Spend some time alone in a natural setting, closing your eyes, and listen to the different sounds of nature, the chirping of the birds and the breeze that flows and the trickle of water fountains, and more.
You can discuss about the benefits of meditation with your friends and family and share your views and take theirs as well.
You can share experiences with your friends and family by spending some time meditating in the garden.
You can share your experience on this special day for meditation in the garden, how you celebrate or intend to celebrate it, and add the hashtag #NationalGardenMeditationDay to your posts online.
Interesting facts about National Garden Meditation Day:
It is well known that meditation in a naturally peaceful place can easily quell stressful thoughts and also help deal with anxiety. Now here we have some interesting facts about how meditating in the garden can benefit you.
To start with there is, of course, the fresh air in the garden which is highly beneficial to your body.
Listening to the sounds of nature as you close your eyes and meditate is a relief from the daily noises of machines and another cacophony.
Meditation on its own helps in relieving pain in any part of your body and the garden it is much more accelerated thanks to the peaceful atmosphere and fresh air.
If you are spending your time out in the sun, your skin also receives its much-needed dosage of Vitamin D. Do remembers to wear protection to not get overburnt.
Furthermore, the muscles in your body start to relax with meditation which also eases away your worries and in the end, you will find your mind to be clearer and focused towards your goals.
As your mind settles down from anxiety and depression, it starts relaxing more and you will find that sleep comes easily to you as well.
You can also indulge in gardening along with meditation to give yourself a relaxing physical yet engagingly fulfilling activity.
History of National Garden Meditation Day:
There is no clear indication of when the day was initiated as a celebration but what we do know is that it was the Garden Lady from gardenlady.com who created this day. Garden Lady, whose actual name is C.L.Fornari believed that gardens can help us connect to nature and to ourselves and others. And since meditation helps us to stay focused, meditating in a garden is quite beneficial which triggered the creation of this day by the Garden Lady. And of course, the history of gardens dates back to time immemorial.